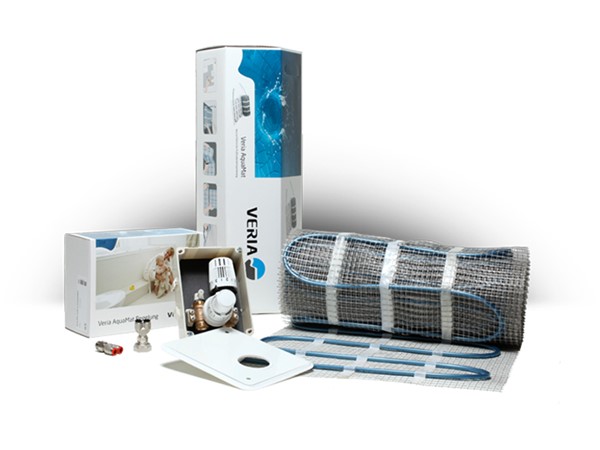 Product features
8 mm installation height
10-year warranty (for pipes)
CE-marked in accordance with DIN 4721 and 16833
Height
Length
Pipe material
Sealed for oxygen diffusion in accordance with
Warranty (for pipes)
Width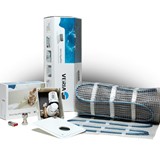 Veria Aquamat
Veria Aquamat
8 mm
6 m
PE-RT (5-layer pipe)
DIN 4726
10 years
0.5 m
| | | |
| --- | --- | --- |
| Product number | Description | Length |
| 189B9250 | Veria AquaMat floor heating mats | 6 m |
| | |
| --- | --- |
| Product number | Description |
| 189B9252 | Return flow valve (thermostat sensor head included) |
| 189B9254 | Return flow valve in installation box (thermostat sensor head included) |
| 189B9256 | Return flow valve and room thermostat in installation box (thermostat sensor head included) |
| 189B9258 | Distributor fitting for 1 mat |
| 189B9260 | Distributor fitting for 2 mats |
| 189B9262 | Distributor fitting for 3 mats |
| 189B9264 | Repair kit |
Easy installation
Veria AquaMat consists of an 8 mm floor heating pipe affixed to a self-adhesive mesh net. This means you don't have to calculate the heating pipe's correct distance or worry about fastening it to the floor. Once you have rolled out the mat and embedded it in a flexible casting compound, connect it to the existing central heating system via a return flow valve.
Perfect for renovations
With an installation height of just 8 mm, AquaMat is perfect for renovation projects and for rooms with limited installation heights, though it is also ideal for areas in which floor heating is the only source of heat.
AquaMat is available in a size of 3 m2, but both the mat and heating pipe can be shortened as needed.
If a larger area is to be covered, up to three mats (for a total of up to 9 m²) can be connected to the same thermostat with the corresponding distributor fittings.
Hydronic floor heating
With Veria AquaMat, it has never been easier to install hydronic floor heating, and you can now transform your old radiator into an efficient and comfortable floor heating system in a snap.
Accessories
Sold separately