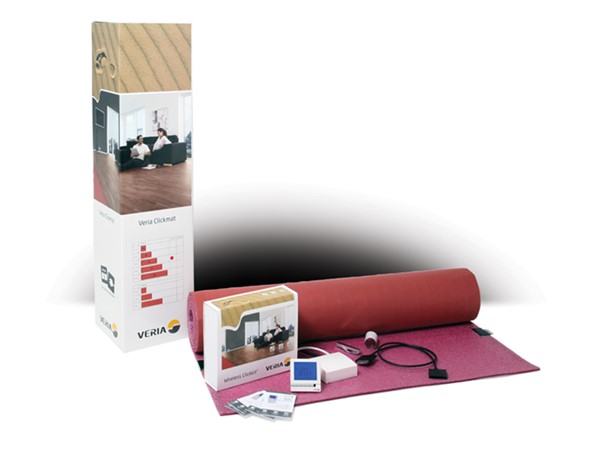 Product features
8 mm installation height
Available in 55 W/m² and 100 W/m² outputs
5-year warranty
CE-marked in accordance with EN 60335-1, 60335-2-96 and 62233
Bottom layer
Cable
Heat distribution foil
Height
Insulation value (μ)
IP class
Length
Noise damping value
Output per m2
Plastic mat
Pressure load density
Top layer
Warranty
Width
Veria Clickmat
Veria Clickmat
5 mm polypropylene foam (PP)
1 conductor with double insulation
20μm aluminium
8 mm
8 W/m2K
IPx7
1-5 m
17 dB
55 W/m2 and 100 W/m2 at 230 V
50μm thermoplastic polyester (PET)
<3 mm at a pressure of 2 kN (area = 100 x 100 mm)
Rubber mixture
5 years
1 m
| | | | | | | |
| --- | --- | --- | --- | --- | --- | --- |
| Product number | Description | Length | Cover area | Heated area | Total output | Total amps |
| 189B9112 | Veria Clickmat 55 | 1 m | 1 m2 | 0.4 m2 | 22W | 0.1 A |
| 189B9114 | Veria Clickmat 55 | 2 m | 2 m2 | 1.4 m2 | 77W | 0.33 A |
| 189B9116 | Veria Clickmat 55 | 3 m | 3 m2 | 2.4 m2 | 132W | 0.57 A |
| 189B9118 | Veria Clickmat 55 | 4 m | 4 m2 | 3.4 m2 | 187W | 0.81 A |
| 189B9120 | Veria Clickmat 55 | 5 m | 5 m2 | 4.4 m2 | 242W | 1.05 A |
| 189B9122 | Veria Clickmat 100 | 1 m | 1 m2 | 0.4 m2 | 40W | 0.17 A |
| 189B9124 | Veria Clickmat 100 | 2 m | 2 m2 | 1.4 m2 | 140W | 0.61 A |
| 189B9126 | Veria Clickmat 100 | 3 m | 3 m2 | 2.4 m2 | 240W | 1.04 A |
| 189B9128 | Veria Clickmat 100 | 4 m | 4 m2 | 3.4 m2 | 340W | 1.48 A |
| 189B9130 | Veria Clickmat 100 | 5 m | 5 m2 | 4.4 m2 | 440W | 1.91 A |
| 189B9132 | Veria Fillermat | 1 m | 1 m2 | - | - | - |
| 189B9134 | Veria Fillermat | 2 m | 2 m2 | - | - | - |
| 189B9136 | Veria Fillermat | 4 m | 4 m2 | - | - | - |
| | |
| --- | --- |
| Product number | Description |
| 189B9104 | Veria Wireless Clickkit 55 |
| 189B9105 | Veria Wireless Clickkit 100 |
| 189B9106 | Veria Clickmat extension cord, 0.25 m |
| 189B9108 | Veria Clickmat extension cord, 1 m |
| 189B9110 | Veria Clickmat extension cord, 2 m |
Easyplan
The application guides you through a few selections and provides a product list and design and layout plan for achieving maximum heated floor area based on your input.
Simple solution with built-in benefits
With the Veria Clickmat, you get every function in a single solution, and its built-in insulation means you won't have to install additional insulation beneath your floor heating system. The mats also dampen noise and the sounds of footsteps, even though they're just 8 mm thick. Also, because the mats are so thin, the vast majority of doors and doorsteps will not need to be raised.
Wireless control
For the floor heating system Veria Clickmat, a time control thermostat for wireless control of the underfloor heating system is available as an accessory.
For example, you can set the heat to be turned on only during the hours when you are normally at home, and you can adjust the temperature so that your home is always comfortable for you and your family.
Low price, maximum comfort
With Veria Clickmat, you have an energy-efficient floor heating system whose quick response time means it only needs to be turned on immediately before you come home.