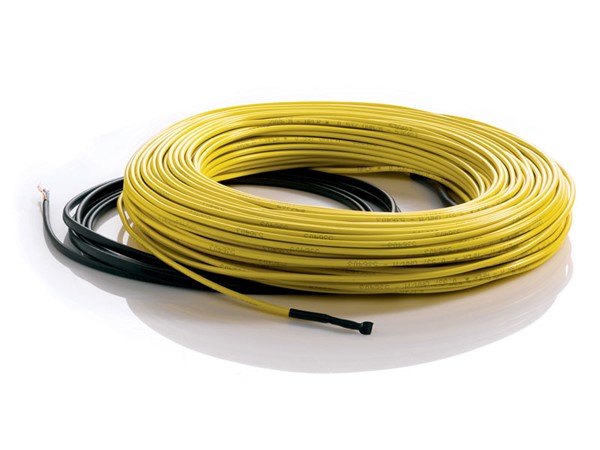 Product features
6,9 mm installation height
20 W per metre
Aluminium screen (100% shielded)
12-year warranty
CE-marked in accordance with IEC 60800
Deformation strength
Heating cable insulation
Height
Length
Max. temperature
Outer cover material
Output per metre
Screen
Supply line
Tensile strength
Volt
Warranty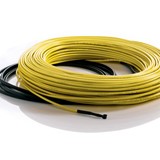 Veria Flexicable
Veria Flexicable 20
1500 N
XLPE
6,9 mm
10-125 m
60°C
PVC
20 W/m at 230 V
100% alu-foil + 0,5 mm² tinned copper drain wires
2.3 m
400 N
230V
12 years
| | | | | | |
| --- | --- | --- | --- | --- | --- |
| Product number | Description | Length | 100 W/m² (C-C = 20 cm) | 150 W/m²(C-C = 13,3 cm) | 200 W/m²(C-C = 10 cm) |
| 189B2000 | Veria Flexicable 20 - 200 W | 10 m | 2.0 m² | 1.3 m² | 1.0 m² |
| 189B2002 | Veria Flexicable 20 - 400 W | 20 m | 4.0 m² | 2.7 m² | 2.0 m² |
| 189B2004 | Veria Flexicable 20 - 650 W | 32 m | 6.4 m² | 4.3 m² | 3.2 m² |
| 189B2006 | Veria Flexicable 20 - 830 W | 40 m | 8.0 m² | 5.3 m² | 4.0 m² |
| 189B2008 | Veria Flexicable 20 - 970 W | 50 m | 10.0 m² | 6.7 m² | 5.0 m² |
| 189B2010 | Veria Flexicable 20 - 1,200 W | 60 m | 12.0 m² | 8.0 m² | 6.0 m² |
| 189B2012 | Veria Flexicable 20 - 1,410 W | 70 m | 14.0 m² | 9.3 m² | 7.0 m² |
| 189B2014 | Veria Flexicable 20 - 1,700 W | 80 m | 16.0 m² | 10.6 m² | 8.0 m² |
| 189B2016 | Veria Flexicable 20 - 1,890 W | 90 m | 18.0 m² | 12.0 m² | 9.0 m² |
| 189B2018 | Veria Flexicable 20 - 1,980 W | 100 m | 20.0 m² | 13.3 m² | 10.0 m² |
| 189B2020 | Veria Flexicable 20 - 2,530 W | 125 m | 25.0 m² | 16.6 m² | 12.5 m² |
| | |
| --- | --- |
| Product number | Description |
| 189B9138 | Veria tape set |
| 189B4030 | Veria Control W45 |
| 189B4040 | Veria Control B35 |
| 189B4050 | Veria Control B45 |
| 189B4060 | Veria Control T45 |
| 189B4070 | Veria Control ET45 |
High output
Veria Flexicable 20 has a continuous output of 20 W per metre, which makes it possible to achieve a heat output capable of warming even the most demanding areas, such as sunrooms, uninsulated basements, etc.
Veria Flexicable 20 should be used primarily for deep embedding projects, and it is thus well suited to new builds.
The cable can be installed directly on the substrate. The easiest way to affix it is by using VeriaFix double-sided tape or similar, although it can also be secured using a glue gun.
Top-notch safety
The heating cable is equipped with a plaited copper screen, which, via the thermostat, is connected to the earth connection of your electrical installation. Should the cable break unexpectedly, the built-in screen connection will immediately shut down the system - without any risk to people or animals.
Select the correct output
The area that a given cable can cover depends on the desired output per square metre, and thus on which c-c distance cables are installed with it.
The recommended output depends in part on the room's insulation, and partly on the floor's surface and substrate materials.
For a wooden or laminate subflooring, as well as for a wooden and laminate floor covering, a maximum output of 100 W/m² is recommended.
For a concrete or tile subflooring, as well as for a regular or quarry tile floor covering, a maximum output of 150 W/m² is recommended.
In poorly insulated areas, we recommend an output of up to 200 W/m².