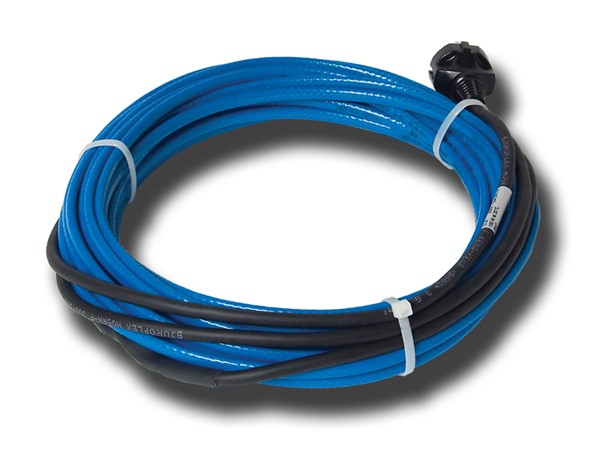 Product features
Self limiting cable
10 W/m at 10 ˚C
EU plug with 2-pins
2-year warranty
CE-marked in accordance with EN 60335-1:2012
Insulation of outer cover/conductor
Max. ambient temperature
Min. bend radius
Min. installation temperature
Minimum Screen Coverage
Operation voltage
Output
Supply line
Warranty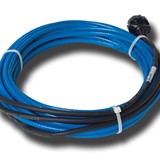 Veria Pipeheat 10
Veria Pipeheat 10
Fluoropolymer/Blue TPO
65° C in operation / 65° C not in operation
25 mm (inside of the cable)
-5° C
100% aluminium foil
230 V
10 W/m at 10 ˚C
2 m
2 years
| | | | |
| --- | --- | --- | --- |
| Product number | Description | Length | Output (at 10°C) |
| 189B9210 | Veria Pipeheat 10 | 2 m | 20 W |
| 189B9212 | Veria Pipeheat 10 | 4 m | 40 W |
| 189B9214 | Veria Pipeheat 10 | 6 m | 60 W |
| 189B9216 | Veria Pipeheat 10 | 8 m | 80 W |
| 189B9218 | Veria Pipeheat 10 | 10 m | 100 W |
| 189B9224 | Veria Pipeheat 10 | 16 m | 160 W |
| 189B9230 | Veria Pipeheat 10 | 25 m | 250 W |
Protect your pipes from frost damage
When pipes are exposed to below-freezing temperatures, ice accumulation can cause them to crack, thus resulting in significant damage and service interruption. With Veria Pipeheat 10, you can protect yourself against frozen water pipes and prevent frost damage and burst pipes.
An economic solution
Veria Pipeheat 10 is a unique self-regulating heating cable that generates the correct output (heat) depending on the ambient temperature, and thus offers a better solution and lower energy bills, as it only uses the minimum amount of energy required.